---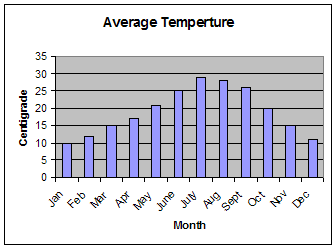 Banyuls has the benefit of a Mediterranean climate. The summers are hot, 35° plus and in the winter, it rarely drops below freezing. Most of the rainfall is in the winter and spring with the better weather during May through to October. There can be some spectacular thunderstorms in the summer occasionally accompanied by very heavy rain. However this soon dries out and it's usually back to glorious sunshine. There can be storms in the mountains where the clouds "dissolve" as they reach the sea air. In the spring time the air is scented with jasmine and the flowers from the lemon and lime trees and in the summer bougainvillea hangs from the houses and "Belle de Nuit" scents the night air. In the spring and early summer the cactus plants are in flower and the "garrigue" brings a display of wild flowers, wild thyme and small lavenders to the hillsides. In later summer the hillsides are parched and dry in the heat of the sun. Oleanders flower throughout the summer and at the roadsides where they are planted there is a blaze of colour. In the Winter, Banyuls is approx 2 hours drive from the Ski slopes in the Pyrénées. Ski season is January to March
The other major weather feature of the region is the wind. This is a feature of the entire Mediterranean coast in France and Italy. Banyuls is too far south to be affected by the Mistral (the wind of Provence) but the area has a wind system of its own. The main winds are :
The Tramontane. (Tramuntana in Catalan). The Tramontane wind blows from the north-west and is the local, gentler version of the Mistral. It is dry, cold and often violent, carrying air from the north. In summer it brings clear blue skies and relief from the heat. In winter it just brings cold air.
The Cers wind blows from the West or South West in the bas Languedoc and often heralds sunny warm weather. It is generally cold in winter, and warm in summer, but always dry.

Some photographs taken by me in Banyuls town. You can see more of my photographs of the town, beach and surrounding area by following the links below.
Banyuls Hotel de Ville - the Town Hall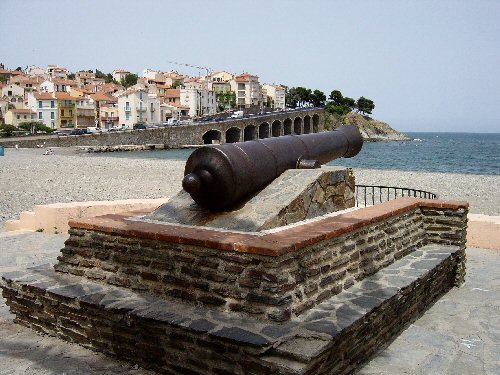 The Cannon with the Beach and Arcades in the background. Photo taken in the spring time so the beach is quiet.
One of the streets in Banyuls - photo taken in the spring time
---
More Photographs here:
---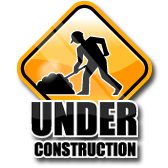 Review (by Penny) of bars and restaurants in Banyuls is under construction. Some items which will be included are listed below.
Restaurants
Chez CLAUDE (This is one of our favourites)
5 place Paul Reig
04 68 88 55 20


Les Elmes LA LITTORINE
Hôtel des Elmes
Plage des Elmes
O4 68 88 03 12

Bars
BAR des ARCADES
avenue de la République
04 68 98 02 31

Shops
Supermarket(s)

Carrefour Market
Route des cretes
66650 Banyuls sur Mer

Website : Champion - Banyuls

Diagonal Supermarket

Located behind the Bandstand in the main square

Newspapers

English newspapers available in Rue St Pierre
---

---